Plex is one of the best home media servers – it's easy to use but powerful and flexible. And if you've contemplated getting a Plex Pass you might want to hurry as prices are going up. As of September 29th 2014 prices are going up as follows: Monthly Plex Pass subscriptions will increase from $3.99 to $4.99 per month. Annual Plex [...]

I recently ordered a backpack from the apple store.  This pack was specifically selected because it was hoped to be light, compact and durable. So imagine my surprise when the delivery guy showed up at my door with a box big enough to hold a baby horse. As I opened it I was trying to figure out what it could [...]
Whats the absolute best light, sturdy and organized laptop backpack?

Wouldn't it be better if our luggage could carry us? Here are a few options for rideable bags and suitcases.
We're going to start a new regular feature here – a monthly preview post of some gear we're going to be reviewing. This is your chance to chime in with any requests to prioritize any of these reviews or ask specific questions or request tests to be included in the review. Here are the items that are currently being shipped [...]

These JayBird BlueBuds X Sport Headphones are a miracle of miniaturisation. They are light, compact with comfortable adjustable fit and excellent sound for their size. These are the first ear buds I've used that work properly for jogging – apple ear buds always fall out of my ears and an assortment of tighter ear buds always transfered cord noise making [...]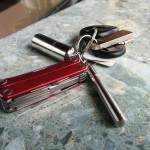 The Leatherman Squirt PS4 is a very handy compact toolkit that fits easily on a key ring.

I enjoy a good news reader – ideally something that will bring news sources to me instead of me hunting them down, like an eternally refreshing smart magazine. When I first found Flipboard on my iPhone years ago I remeber being very impressed. The interface was simple and elegant and it would bring together news from all sorts of [...]
In that category of apps you never knew you needed: Gravity Screen. When I first heard what this app did I thought it sounded silly. Really? I'm going to save all the effort of pushing the power button on my phone? Yes.  I'm not sure why this is so appealing, but it becomes such a natural part of my phone [...]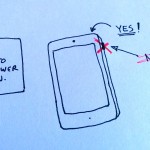 We sure hope Apple doesn't copy the crappy power button placement of many Android phones.