This ThinkOutside folding bluetooth keyboard is kind of amazing
What's the greatest gadget you ever bought? Is it an amazing phone? A powerful laptop?
I've gotten great joy from all of those things, but one drawback of technology is that progress tends to make the latest hot and shiny seem a bit old and slow within the space of just a few years.
Whats the longest you ever used a mobile phone? A laptop? Is there any device that would fit into the 'gadget' category that you've used for more than 5 years? How about 10?
I first purchased the ThinkOutside stowaway bluetooth keyboard off of ebay in 1999. I'm using it to type up this review on it in 2014. In case you're numbers-challenged, thats a grand total of 15 years.
And this thing still impresses me. It's compact and durable. Battery life is excellent, lasting months off of the 2 AAA batteries. I've used this keyboard with a palm pilot, a PocketPC, several iphones and android phones. I'm currently using it with a Nexus 5.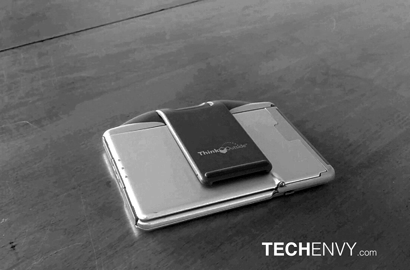 And across all those devices over all of those years, this keyboard has been solid, reliable. Automatically connecting, every key responding as it should despite being folded, dropped, tossed into sandy beach bags.
About the worst thing I can say about this keyboard is that I've had a couple keys pop off after being kicked around in a bag for a while and those popped right back on and it keeps working as good as new.
I can think of no other gadget that has had the lifespan and device compatibility of this keyboard, and I've had my share of gadgets. On a pure dollar to use ratio this device is unsurpassed.
There's even some (minimal) angle adjustment in the flip out phone cradle.
So what about drawbacks, there must be SOMETHING right?
Basically only one that I can think of and that's due to the nature of its extreme portability. It's difficult (though not impossible) to use this keyboard on your lap. Much easier to use it on a table or desk, though I am using it on my lap at the moment. The 'foot' that holds the phone when unfolded is in the middle of the device, essentially right between where your knees are when you're using it on your lap. This means that you have to kind of angle it to the side and let it rest on one knee to keep it stable.
Alternately, since the keyboard and phone are not attached you can simply use them separately. In my car I can rest the phone up in the sun visor and use the keyboard on my lap fine.
The only other potential drawback I can think of related to its excellent portability: it has no dedicated number row of keys, so you need to use function keys to type numbers. On the other hand how else are you going to get nearly a full size typing keyboard in a package this compact and durable?
If you're faster with a keyboard than freehand writing and writing is something you enjoy doing or need to do out and about I highly recommend this keyboard. I can think of no other piece of portable technology that has lasted this long and been consistently useful throughout it's use. I wouldn't be surprised to get another 15 years out of it, and if it does eventually bite it, I'll likely pay the high price to replace it with the same model. These currently go used for around $90 and new for around $200.
If that's too rich for your blood but you're intrigued by the general design you'll find some amazingly cheap alternatives, like this BESTEK® Mini Folding Wireless Bluetooth Keyboard for less than $25 shipped! I can't vouch for those alternate brands though and they don't tend to get as many positive reviews, but at the price it just might be worth the risk.
As for the original ThinkOutside iGo Bluetooth folding keyboard, I give it fourteen hundred stars and 3 thumbs up!