Motorino XPi Electric Scooter
|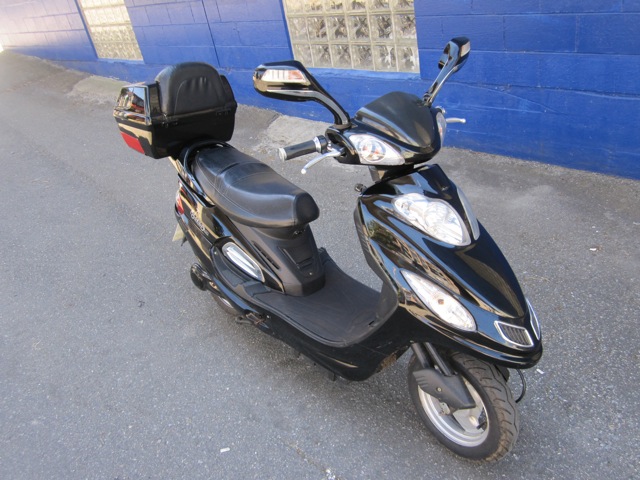 When was the last time you heard of something that was ecologically friendly AND fun? This electric scooter fits the bill and is a great little city get-about.  The XPi is one of a series of electric scooters made by Motorino.  This one is built on a motorcycle frame and has a passenger seat and a trunk which is great for picking up groceries.  In many cities these scooters are classified as electric bicycles, which means you don't need any special license or insurance to ride them, unlike gas powered scooters.
This makes the ongoing cost of ownership incredibly low.  Instead of paying for gas you get a full charge in 6 hours for about 6 cents worth of electricity.  Maintenance and repairs are also very low because the underlying design and engineering is simple and based on existing commodity parts – i.e. brake pads are a few bucks.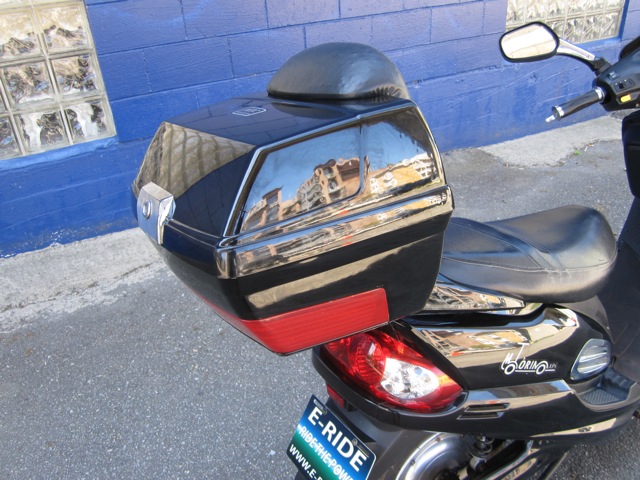 This particular model has an extra large storage box, which is great for hauling items that are too big for walking, but too small to make a car trip worthwhile.  You can fit 2 – 3 bags of groceries back there and still have some storage space left under the seat and in the glove box.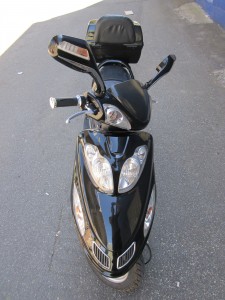 The night visibility of this scooter is excellent, with bright running lights, very visible brake lights, high and low beam headlights and turn signal indicators included even up on the mirrors.
On a full charge this scooter is rated to go for 50 – 60 km, but the actual distance you can go will depend on a number of factor including load weight and hills.  The charger plugs into a regular household outlet and fits easily into the storage under the seat in case you want to charge at your destination.
[GARD]
The design and efficiency of electric vehicles are getting better and better, and the scooter format makes a lot of sense for an electric vehicle that is primarily an in-city runabout.  A bicycle will give you more exercise, but there's something to be said for the ability to take on a passenger and effortlessly zip down to the beach.
The XPi has a speed limiter, which tops out at 35km.  Although this could be hacked out to give you more speed, there's an advantage to this limit, as it allows this scooter to be classified as an electric bicyle – saving a lot of money on insurance and eliminating the need for a motorcycle license.
I've greatly enjoyed this bike over the last year or so and would recommend it to anyone who wants a relatively cheap runabout with some storage and passenger capacity.  Riding this scooter has made me consider getting my motorcycle license and purchasing an electric motorcyle – there's something very nice about that quiet lift off that an electric motor gives you.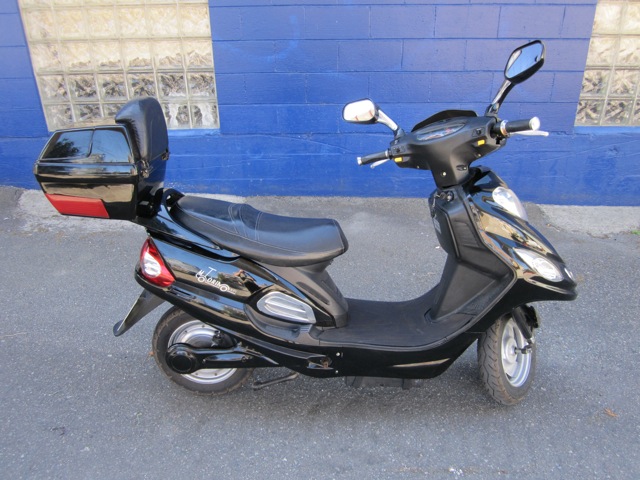 In Vancouver BC the Motorino brand is sold by eRide located at 2nd and Main.  They offer sales and service.