Yep. Like iTunes for PDFs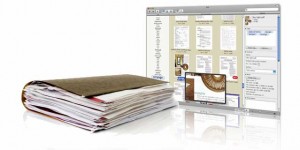 Is there a software package out there that can help you tag, sort and organize a collection of PDF files? Yep.
Ironic Software makes a few different tools for sorting, organizing and searching for information on OSX.  Yep is their PDF catalog tool, and is the only one of their products I've tried, but I can vouch for its usefulness and sensible design.  I'm using it with a Fujitsu ScanSnap to convert old paper to new digital files that are organized and searchable.
[GARD]
Unlike iTunes, iPhoto or Calibre, Yep doesn't move files into its own structure.  Instead you sent directories you want it to monitor (I have one for scans) and as soon as new PDFs show up there they'll be added to Yep.  You can also drag files into the program from other locations, and add tags to make finding stuff later easier.
I'm finding this to be a very useful program in my effort to move away from paper.  Combined with the ScanSnap I'm slowly converting old nostalgic paperwork into digital form and getting rid of mass.  Yep strikes the right balance between simple and powerful to do exactly what I need it to do.