Jaybird Bluetooth ear bud headphones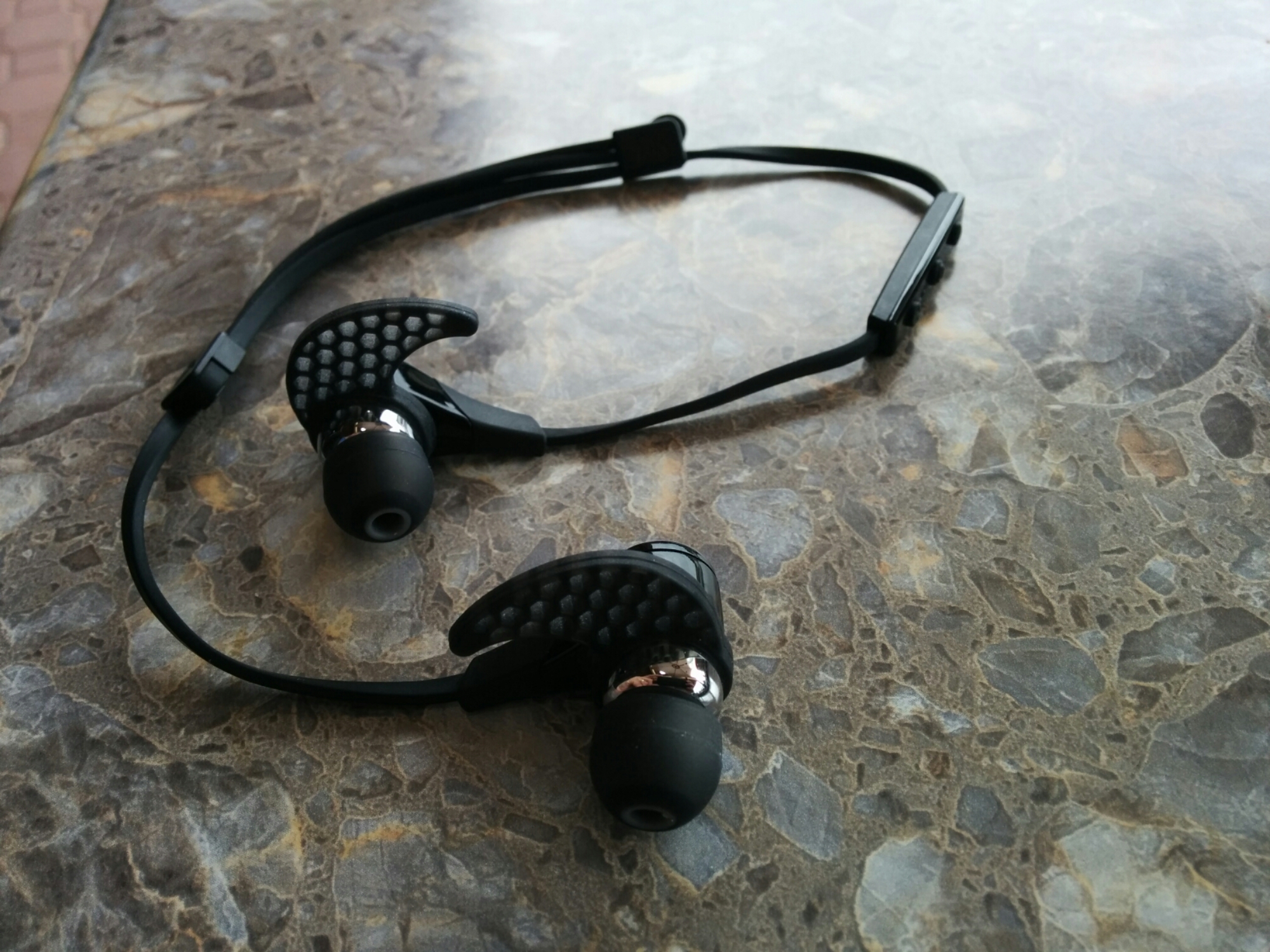 These JayBird BlueBuds X Sport Headphones
are a miracle of miniaturisation.
They are light, compact with comfortable adjustable fit and excellent sound for their size.
These are the first ear buds I've used that work properly for jogging – apple ear buds always fall out of my ears and an assortment of tighter ear buds always transfered cord noise making for an unpleasant run.
The only cord on these headphones connects the two ear buds since the Bluetooth connection does away with a physical link to your phone or mp3 player. They have a very adjustable design which takes some getting used to, but once personalised they are very comfortable.
You can wear them over under ear with cord below your chin or over ear with cord running behind your neck, which is the way I use them.  They come with 3 different size ear buds so you can pick the pair that fit you best, and they also come with 3 different size 'wings' that fit inside your ear and lock them in place.  This makes for a remarkable solid and comfortable fit.
The rechargeable battery is hidden behind the control buttons and last for a full day.  Thankfully they've opted for a standard mini USB port for charging which means when traveling on standard cable will charge this headset as well as an assortment of other devices.
They say they are water resistant and durable which should mean they won't get drowned by sweat or rain when running.  I've certainly found this to be true, in fact I accidentally left my set in a pocket and ran them through the washing machine.  I don't recommend this.
When I pulled them out of the washing machine they looked to be remarkably in one piece, but wouldn't turn on.  I charged them up and tried again, but still no response.  I can tell you the feeling of ruining a $160 pair of headphones by running them through the laundry is quite the sinking feeling.  I set them aside, wondering if there was a way to fix them.
Two weeks later I came across them again and tried the power button. Success!  The headset came to life, connected to my phone and worked flawlessly.  That was about 6 months ago and they've been running happily ever since.
Jaybird is tough!
My only complaints are pretty minor, one of them isn't even about the headset itself, but more about the way the phone interacts with their controls. So far I haven't found a way to customise the button controls.  I would like to be able to set double tap and long tap controls for different apps like Google music and podcast listening.
In terms of overall design they are a remarkable success balancing durability, portability, sound quality and comfort. My one complaint about the physical design is that the 'wings' are held on like rubber bands on the smooth ear bud barrel.  I wish there was a more solid way of attaching them as they do occasionally slide of while being kicked around in a pocket or bag. On balance though that's a minor complaint, overall this is one of those expensive purchases that turns out to be well worth it.