Luggage you can ride: a history of packable scooters.
|
When I grow up I want to be a giant flying robot, but for now I blog about gadgets and work as a director of animated projects for all sorts of purposes. One of those purposes (years ago) was for a kids show about Entrepreneurial Ventures funded by the Kaufmann Foundation.
All Terrain Brain was a fun collage and vector cartoon style show with one minute musical episodes – a kind of 'school house rock' for business kids. In the 23rd episode of that series a kid is sick of lugging heavy books to school and so invents a 'ride-a-pack' backpack that magically transforms into a scooter.
That was back in 2007, but a few years back I noticed a couple of new products and concepts that were similar.
Fast forward to 2014 and in the last few days I've seen two stories about rideable luggage, but these are both electric.
The 'Movpak' is a rather fantastic design that will soon be on kickstarter and is available for preorder at a cost of $1,190. This 17lb pack has a 9 mile range at a top speed of 15mph and folds up in one movement:
Then there's this Chinese Farmer who's developed a recycled suitcase scooter. Speed tops out at 12 mph, but it gets 37 miles on one charge.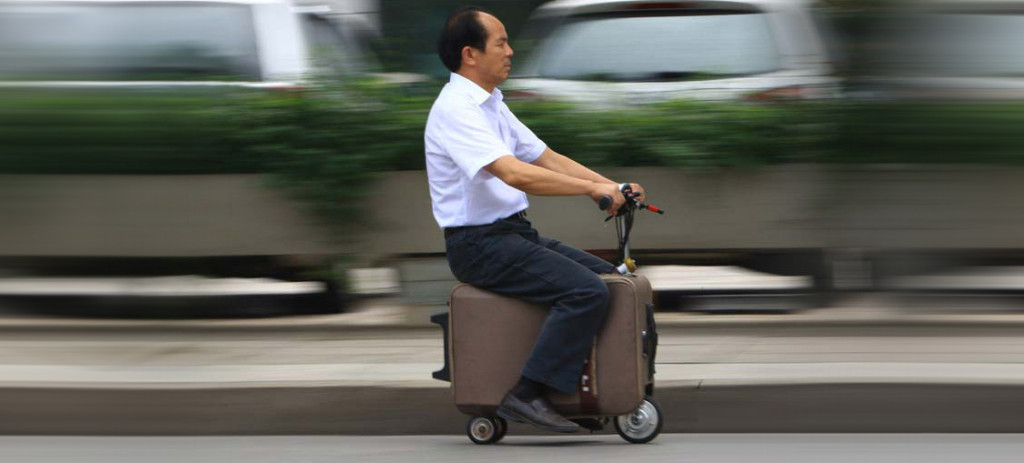 Looking into it a bit more I see there are even products currently available that you can order off of Amazon like this scooter suitcase:
or this kickboard luggage carrier:
Not quite as badass as this homemade mad max style electric bike, but the future is a brave place filled with wheeled rideable luggage and giant robots. It's in the bag.